Uptown Double – A Journey in "What if…"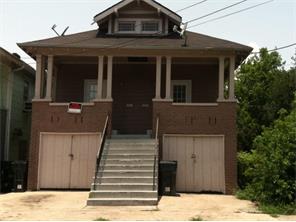 By the end of this post, you may wonder how long we've owned this property.   For the record, we haven't even got an accepted offer yet.  We do have a "handshake" deal that will be formalized by the end of the week, but it's already "our baby." It looks like Bobby and I are going back to our beginnings together, ready to create something from nothing – and make a profit.
Quickly, this started with a line of credit on our Cotton Mill condos, now doubled in value since we purchased and renovated them.  Newly infused with cash, we took an amazing exploratory trip to Costa Rica, hoping to find just the right vacation home that we could rent out and create some investment income in our absence.  Our "research" trip was a bust, leading us to the conclusion that the steals once available are pretty much over… but our "vacation" inspired a brand new energy for building and making beautiful a property right here at home.
In our business, hospitality in our corporate rental program is as important as location, structure, value, or anything else that goes into a property.  Staying in Costa Rica at a home built by a passionate builder reminded me that to rehab a successful project, it must be crafted with love and built with one's guests in mind.  Casa Amor was a great example of the way we feel when we renovate.  Beyond brick and mortar, the house there is built with native woods from the property, and as much as anything else, the "vibe" that exists comes from the mentality of the builder… only the best, only that which promotes "pura vida," the pure life.
Here in NOLA, it has to scream, "Welcome!"  When you enter this home, it will kiss you hello, wrap its arms around you, and sing to you from the street, whisper haunted secrets, fill your senses with rich spices and warmth… it will greet you like only New Orleans can.  It will.
All this romance about an ugly Uptown double?  Right now it has a face only a mother could love – but we see so much potential!   A crazy floor plan – right and left side with upper and lower floors.  It was a "quick flip" for an investor who wanted to get it approved for Section 8 a few years ago.  With the lower floors having three bedrooms and a bath, it puts a total of five bedrooms and two baths on each side.  Completely impractical as a corporate rental, so our long-term plan is to create four units.  For now – we're re-doing the top two.
Each has the high ceilings and "stoops" typical of the raised double in New Orleans.  City planners are trying to make sure these houses survive in their "Urban Historic Neighborhood Plan."  It's a good thing for us, because the goal is to create more living space to house more people without using up more footprint on each property.  Perfect motivation for them to approve a zoning variance to a four-plex when we get to that point.
Meanwhile, our financial plans are satisfied by using only the upstairs units, creating two 2 bedroom/2 bath units with gorgeous interiors.  And luckily, a lot of infrastructure has already been upgraded.  We just have to remodel kitchens and baths and do something with the ugly tile flooring, the quarter-round trim used as baseboards, and all the implications of furnishing and decorating what will eventually be a sought-after guest house for those who need corporate housing.
Stay tuned… we should have the purchase completed soon and the fun begins!
Anne Beck